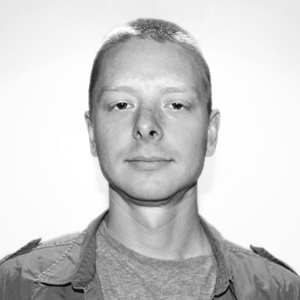 After almost eight years of military experience, working in a matrix style organization, I've become a bit of a jack-of-all-trades. Although I prefer web design, I'm also a capable photographer and multimedia illustrator that is flexible enough to adjust and meet project needs. In general, I'm a goal driven designer with an analysis-oriented work style. I tend towards being quiet and slightly introverted, but I'm a proven leader that enjoys working with teams.
In my personal time I love pursuing my personal education. My primary 'hangouts' are Lynda.com and CodeCademy. I'm also a big proponent of working out and living a healthy lifestyle. So, when I'm not staring at a screen, I love to go to the gym or jog the local trails. Either way, a little bit of exercise goes a long way towards clearing your head and refocusing between complicated tasks.
It's always about the client & the target audience.
My hardest learned lesson as a designer is that the biggest mistake you can commit is to loose sight of your client or the target audience. As a designer, I serve as a visual communicator for my clients and if I fail to understand either our client or the target audience, I fail at effectively delivering my client's message. This core principal, that the purpose of design is visual communication for clients, is the reason I'm passionate about the user centered design process. From concept and research, to development and implimentation, the user centered design process keeps the focus on both the client and target audience through user testing and deliverables that keep communication open and help focus a message so that it meets its desired impact.
If it's fast & well made, it's not cheap. If it's cheap & fast, it's not well made.
Regardless of your client, you will always need to find a balance between quality, time, and cost. This balance helps protect both client and designer and allows the delievery of the best possible product. My goal with every design I make is to stay under budget, on time, and still deliver a quality product.
I'm currently available to take on new projects or accept a job offer. Although I'm located in Lafayette, Indiana, I'm able to relocate or work remotely. Please understand though, I'm on the final push towards graduation with my Master of Fine Arts degree from the Academy of Art University this December and may not be immediately available depending on what time you catch me during the academic year.
Current Priorities
Graduate School
Military Obligations
Freelance Work
Thank you for your interest! I look forward to working with you.